Books hold within their pages the power to transport us to different worlds, introduce us to new ideas, and inspire us in countless ways. For many avid readers, a well-worn book is a treasure trove of insights and discoveries. One way to make these treasures even more valuable is through the art of highlighting. In this blog post, we will explore the practice of Highlighting Books, why it matters, and provide tips on how to do it effectively without harming your beloved tomes.
Why Highlight Books?
Highlighting book is a practice that involves marking or underlining specific passages, sentences, or words in a text using a highlighter or a pencil. While some might argue that writing in a book defaces its pristine pages, highlighting can actually enhance your reading experience in several meaningful ways:
Enhanced Comprehension: By highlighting key points, quotes, or passages, you actively engage with the text. This process can lead to better comprehension and retention of the material.

Quick Reference: Highlighting allows you to easily locate and revisit important information when you need it. It serves as a visual roadmap through the book.

Personalization: Your highlights are a reflection of your thoughts, reactions, and interpretations of the text. They make the book uniquely yours.

Active Reading: Highlighting encourages active reading. When you interact with a text by marking it, you're more likely to think critically about the material.

Study Aid: For students and researchers, highlighted texts become invaluable study aids. They help condense complex information into digestible portions.

Discussion and Sharing: Highlighted books can facilitate discussions and sharing of ideas with others who have read the same book. It's a way of creating connections through shared reading experiences.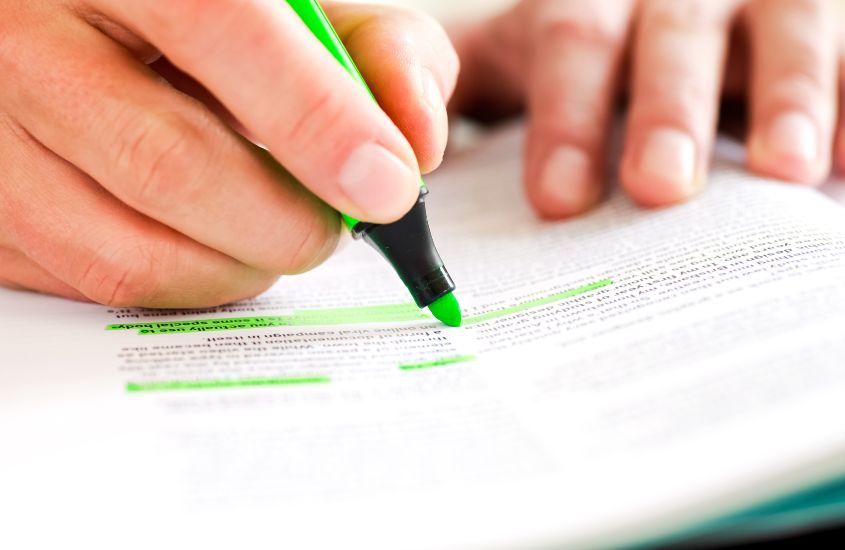 Effective Highlighting Books Techniques
Now that we understand the benefits of highlighting books, let's delve into some effective techniques to make the most out of this practice:
Have a Purpose: Before you start highlighting, consider why you're doing it. Are you reading for academic purposes, leisure, or research? Knowing your purpose will guide your highlighting choices.

Use Different Colors: Utilize different highlighter colors to signify different types of information. For example, you might use one color for key concepts, another for examples, and a third for quotations.

Prioritize Key Information: Not everything in a book is worth highlighting. Focus on the most important information, central themes, and concepts. Avoid over-highlighting, as it can dilute the impact of your markings.

Annotate as You Go: Alongside highlighting, jot down notes in the margins or in a notebook. These notes can provide context for your highlights and help you remember your thoughts and reactions.

Consider Highlighter Type: Experiment with different types of highlighters, such as gel, liquid, or traditional markers. Some may bleed through pages more than others, so choose according to your book's paper quality.

Highlight Strategically: Highlight sparingly, and aim to capture the essence of a passage in a few words or phrases rather than entire sentences. Be concise and precise in your highlighting.

Review and Reflect: After finishing a chapter or the entire book, take time to review your highlights. Reflect on why you highlighted specific passages and how they relate to the overall message of the book.

Create a Legend: If you're using different colors for various types of information, create a legend at the beginning or end of the book to remind yourself what each color represents.

Common Mistakes to Avoid to Highlighting Books
While highlighting books can be immensely beneficial, there are common mistakes to avoid to ensure that your annotations serve their purpose without diminishing the book's value:
Over-highlighting: Highlighting every sentence or paragraph can render your annotations ineffective. Reserve highlighting for the most crucial information.

Ignoring Margins: Writing extensive notes in the margins can clutter the page and make it difficult to read. Keep your margin notes concise and legible.

Not Revisiting Highlights: If you never go back to review your highlights, you may not reap the benefits of your efforts. Make sure to revisit and reflect on your markings.

Skipping Annotation: While highlighting is essential, don't skip the step of adding notes or comments. Annotations provide context for your highlights.

Using Permanent Markers: Avoid using permanent markers or pens, as they can irreversibly damage your books. Opt for highlighters or pencils specifically designed for annotating books.

Highlighting in Library Books: If you're reading a library book, it's essential to respect its condition. Use removable flags or sticky notes instead of highlighting.
Conclusion
Highlighting books is an art that enriches your reading experience, making your books more valuable and personalized. By adopting effective techniques and avoiding common mistakes, you can make the most out of this practice while preserving the integrity of your beloved books. Remember that your highlighted books tell a story not only of the text within but also of your thoughts, reactions, and journey as a reader. So, pick up your favorite book, grab a highlighter, and embark on a literary adventure that's uniquely yours.
Embarking on a journey through the pages of a well-loved book is like striking the perfect note on the best violin. Just as the violinist's skillful touch coaxes out the music's nuances, highlighting in a book allows us to uncover the hidden gems within the text, making it a personalized experience. Both activities require precision and a keen sense of what to emphasize—whether it's the delicate articulation of a musical passage or the profound wisdom of a literary masterpiece. In the end, both highlighting books and playing the best violin invite us to immerse ourselves in the world of artistry, allowing us to create our own unique melodies and stories.